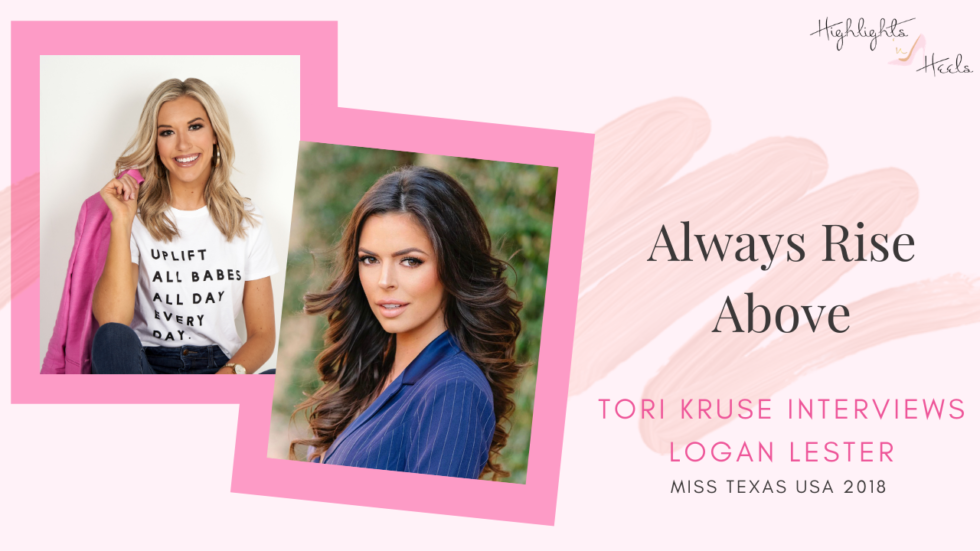 Always Rise Above
This week we are throwing it back to a conversation I had last year with my good friend, Logan Lester! Logan was Miss Texas USA 2018, the same year I was Miss Missouri! We actually first met for a photoshoot in Central Park, but later reconnected at the Miss USA competition where our friendship solidified. Logan is a well-known realtor in the Houston, Texas area, as well as a fashion blogger. I mean, just check out her Instagram, the girl has got style. 
I've experienced this myself, but it seems like once you put on the crown, opinions about you come from every direction — from people who have never met you and don't know a thing about you. People like to tell other people how to live their lives if you haven't found that out yet. With her passions in real estate and fashion, Logan publicly pursues both and for some, that just doesn't sit right. She has heard countless voices tell her that she should only focus on one or the other — but never both. Rest assured, Logan leads her own life and is going to do what makes her happiest. 
"That just goes back to the message that was always drained in my head through pageants is just to be authentic, and I try to do that now in my 'afterlife.'" 
But if you just look at Logan through the lens of her social media presence, you wouldn't come to know that her life hasn't always been picture perfect. Growing up, she was often the victim of intense bullying. 
"I went through some mean girls and bullying in school and that situation, we hear about bullying a lot, and I don't want to harp on that very much, but ended up graduating high school in three years. That's sort of what blossomed my life motto that I talked about as Miss Texas and I still do now, 'Because Nice Matters.' I believe because of that challenge of being made fun of and being excluded by people that were my peers and all those horrible feelings that I felt at the time really helped shape me and prepare me for where I am now." 
Logan obviously took the higher road when it came to her bullies, and acted with grace and forgiveness, but man… that's definitely not the easiest thing to always do. In those moments of hurt and anger, it can be easy to throw stones right back at the other person. So how do we keep a positive mindset, and not let ourselves stoop to a lower level? 
"I just decided that kindness had more power to it… I just decided I'm going to stay in my own lane and I'm only going to worry about Logan. I always tell girls that ask me 'how do I win Miss Texas?' and I say well it comes from here [pointing to her heart]." 
But Logan's mindset wouldn't be what it is without some positive reinforcement. She has incorporated daily habits into her routine that help keeps her grounded and thankful for whatever comes her way. 
She maintains a gratitude journal where every day she writes out what she can count as joys from the Lord. That means the big and small things — from the warm sunshine to closing the sale on a million-dollar home. 
Exercise is another important habit that she encourages. The power of moving our bodies can't be overstated, simply put, it's GOOD for you. Logan works out most days, as it helps energize her and protects her own mental health from the stressors of life. 
Lastly, she prays. Having a close relationship with Jesus fills up her soul, and what could be more fulfilling than talking to the Creator of the Universe? Can I get an AMEN?! 
So if you're struggling with an individual or group of individuals that try to tear you down, Logan likes to remind that how people treat you is often not a reflection of yourself, but a result of their own self-doubt and insecurities. 
Here's how she's learned to cope through the years: 
"Go to your support group. Make sure that you have the people that you trust and you can love on, I think that's important. Then turn to Jesus. I just think all the answers are with him. That's what I do. I give it to God and just let go. I try and I'm not perfect at it, but you know everything in our heart that is going on, He knows about. So just give it to Him every single night. Surround yourself with the right people, and just put your foot in front of the other."