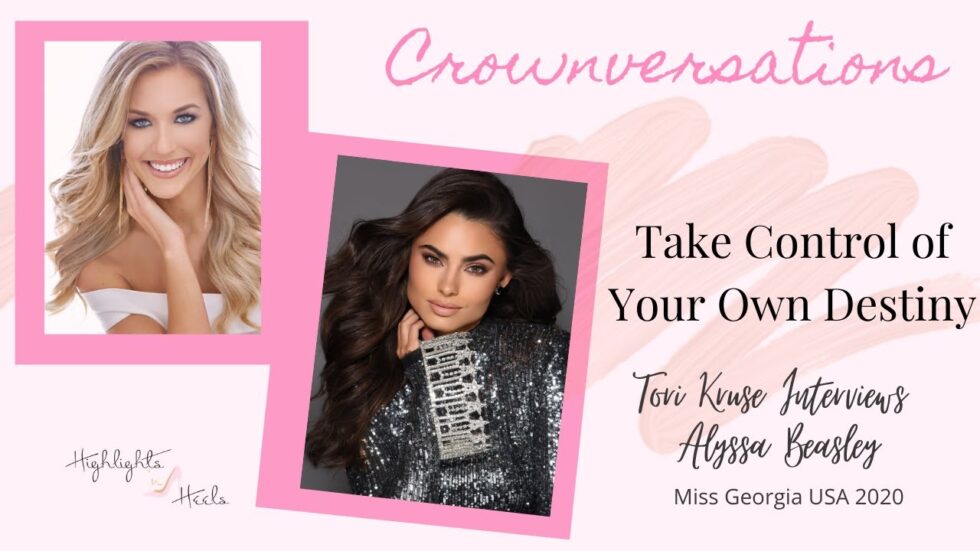 Take Control of Your Own Destiny with Alyssa Beasley
As we continue through this "crownversations" series, I am joined this week by Miss Georgia USA 2020, Alyssa Beasley! You guys, a little fun fact, Alyssa is only one of two women to ever win both the Miss Georgia America and USA titles — so you already know she's a boss.
She held the Miss Georgia America title back in 2017, and when she was competing this past year for the Miss USA crown, we all know the pageant circumstances were totally different. I hate to keep bringing this up, but it is a reality we are all dealing with — COVID has completely transformed our daily lives. We work differently, we eat out differently, we exercise differently, and the list goes on.
I know many girls moving into 2021 are wondering how to approach their pageant experience and keep their mindset right during the most unpredictable time. Luckily, Alyssa has been in their shoes and has some solid advice!
"I like to be overly prepared, and to some people that sounds absolutely insane, but for me, it actually gives me a large sense of peace knowing that I prepared to the best of my abilities. So leading up to Miss USA I loved to journal and write about current events. I always had this massive notebook of all of the information I'd collected throughout the year, and just reading over it from time to time really gave me a sense of peace and knowing that I'm prepared to step into that interview or on stage."
Currently a student at the University of Georgia, Alyssa is majoring in health and physical education — and her own physical fitness has always been an important factor to her overall sense of wellbeing. So it's no surprise that throughout this past year, exercise has remained a pillar in her preparation for competition, but also to maintain her happiness.
"Fitness is a big component of my life anyway. I grew up a dancer and gymnast, so that was just something that I continued to maintain throughout my year, and I think that alleviates a lot of the stress that I had as well. Fitness is great for mental clarity."
Amen sister. I feel like I always leave the gym with a clearer mind than when I entered. I know that so many of us are trying to use this new year as a way to get our health journey back on track and start treating our bodies right. Alyssa has a great perspective on how to do this… and it all relates to mindset.
"I think the big thing for me is to work out for yourself, not for the competition because you don't want to have this strict diet that's not healthy, and immediately go back to what your normal tendencies are after the competition. Then you gain a lot of weight, you have issues with breathing and respiratory. So you want to work out for you, and that looks different for everyone. For me, I absolutely hate cardio, so my cardio was always trying to dance or do my talent… I had to find really unique and engaging ways for me to keep up my cardio because that's not something I'm just going to wake up and want to do."
Alyssa's passion for fitness and art has molded into her initiative titled, "Rise Up." This program enables children with disabilities and those from marginalized communities the opportunity to experience the art of dance. With this platform, she has traveled across the state of Georgia, hosted virtual events and fundraisers, and even spoke on the floor of the state legislature about the necessity and power dance can provide children of all backgrounds.
With this initiative, Alyssa has founded a scholarship fund to help children in financial need to be able to attend dance studios and competitions. This charitable work also spills over into another passion of hers — ending human trafficking. Alyssa partnered with Patrick J. Designs to come out with a dancewear line where part of the proceeds goes towards helping raise awareness surrounding this international issue.
Alyssa actually got introduced to this issue by her friend and fellow Miss USA competitor, Justice Enlow, Miss Tennessee USA 2020. Through their conversations, it began to grow on Alyssa's heart that she needed to do something about it.
"I think coming from Georgia and knowing what it's like in Atlanta and the devastation that human trafficking causes for so many in that population, it really opened my eyes and my mind to saying 'Alyssa you live near that area why don't you learn more to see what you can do to maybe make a difference and change and help.'"
This is an issue we should all care about, as millions of people around the world are enslaved. If you want to educate yourself on the issue and what part you can play in the solution, Alyssa recommends checking out Operation Underground Railroad. As women, it is important to keep an eye out whenever we are alone. Alyssa's biggest tip is to remain aware of your surroundings and stay alert — oh, and she says it doesn't hurt to take a self-defense class!
Be Unstoppable!
– Tori