The Art of Public Speaking With Ruth Sherman
I'm sure at some point in your life you've had to make a public speech. I bet right now you're having a flashback, as chills run down your spine. Public speaking is scary, there is no doubt about it. We are putting ourselves in a vulnerable position to be judged by our peers — and that goes against every instinct we have. In fact, the only fears more common than public speaking are death, spiders, and heights! 
Today, I got to catch up with world-renowned public speaking coach, Ruth Sherman! Ruth is a celebrity speech coach and a thought leader within the public speaking space. Some of you might be wondering how someone goes into that type of career field… Well, Ruth herself was surprised too when she realized it was the path for her. 
In college, she majored in music and had a lifelong dream of being a performer. After moving back to the New York City area after graduating, she quickly realized being an entertainer isn't all spotlights and applause. Ruth didn't want to keep working nights and weekends, and she certainly was frustrated with her money situation. As she puts it, "In show business, you're either a star or starving!" 
But even as Ruth left her music performance dream behind, she still found a more lucrative way to use her singing talents. Soon she was working as a jingle singer, rehearsing jingles for different companies and ad agencies. It was during this time that Ruth learned that she had a gift at making good impressions. 
"I realized I could walk into a room, and get jobs I wasn't qualified for. Now, this was because I knew how to dress, I knew how to put on a costume, I knew how to walk into a room like I owned the place. I knew how to give a firm handshake, to make direct eye contact, engage in lively conversation, and people just liked my whole presence."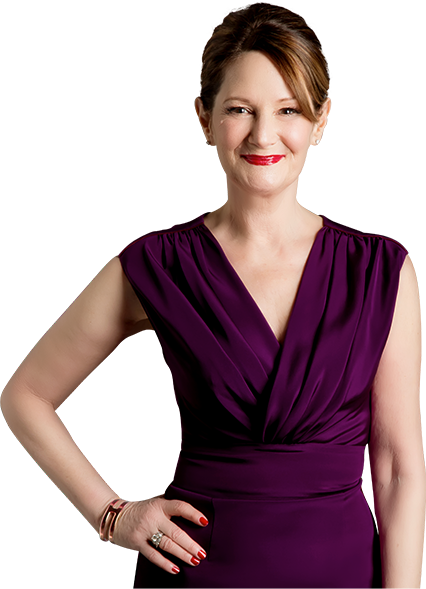 So after her jingle singing career ended, Ruth transitioned to becoming a public speaking coach — helping individuals get a chance at jobs they might be quickly overlooked for. This is all accomplished through self-presentation and PRACTICE. 
"Practicing is the key to the kingdom. You have to practice much more than you want to. It is the biggest obstacle my clients face… If you want to get to the point where you hit it out of the park, where people are lining up to meet you afterward, where you have people asking you for more. That's how you get there [with practice]." 
A quote that Ruth likes to echo regarding the importance of practice is from Micheal Caine: "The rehearsal is the work, performance is the relaxation." Let that sink in for a minute. 
So if you are looking to get your feet wet, and improve your public speaking skills and confidence, Ruth recommends that you seek out Toastmasters. As an international nonprofit educational organization, Toastmasters operates individual chapters across the world that help people improve their public speaking, communication, and leadership skills. 
"You have a chance to start getting practice at technique, and they will beat those uhs and umms right out of you. That's a good place to start because you start by following all the rules. You start by really getting all those techniques down… Start with Toastmasters because it's so accessible and so inexpensive." 
So maybe you're reading this and thinking that sounds great! I'd love to have better public speaking skills and more personal confidence, but I'm just overwhelmed by fear. That's totally natural… Ruth hears that all the time. 
Being afraid of public speaking means you care about the outcome — which is good! Also, it is nothing to be ashamed of, our brains cannot differentiate between physical and emotional fear, so that fight or flight response still kicks in. I know this isn't groundbreaking news, but to start overcoming the fear, you need to start practicing — and starting in front of your mirror is the perfect first step. 
"The solution is practice. Practice is the anecdote to stagefright. It doesn't mean it's going to eliminate it entirely, nor should it. You're actually better when you have a little of that adrenaline coursing through your veins to help you. But you've got to be prepared." 
But just because you are able to get up on stage doesn't mean you're going to give a good speech. The best public speakers have in-depth knowledge [on a subject(s)], confidence, and charisma. Here are Ruth's three biggest tips on how to make a good impression on your audience: 
Have a compelling story to tell 
Practice, Practice, Practice 
Be aware of how you dress, sound, move, and travel 
"Ninety-three percent of your message is communicated nonverbally. That doesn't mean what you say doesn't count. It means that if the way you look and sound contradicts what you say, then people will believe the way you look and sound, and not what you say. We see this happen all the time. People are boring, but they are experts, and people don't think they know what they are talking about." 
If you're interested in learning more about how to improve your public speaking skills and have a better stage presence, Ruth has a new book out called "Speakrets." I've read my copy and it has tons of great tips and real-world advice on how to better market yourself in everyday life. You can find it on Amazon or anywhere books are sold — trust me, it's worth the read!
Be Unstoppable!
– Tori