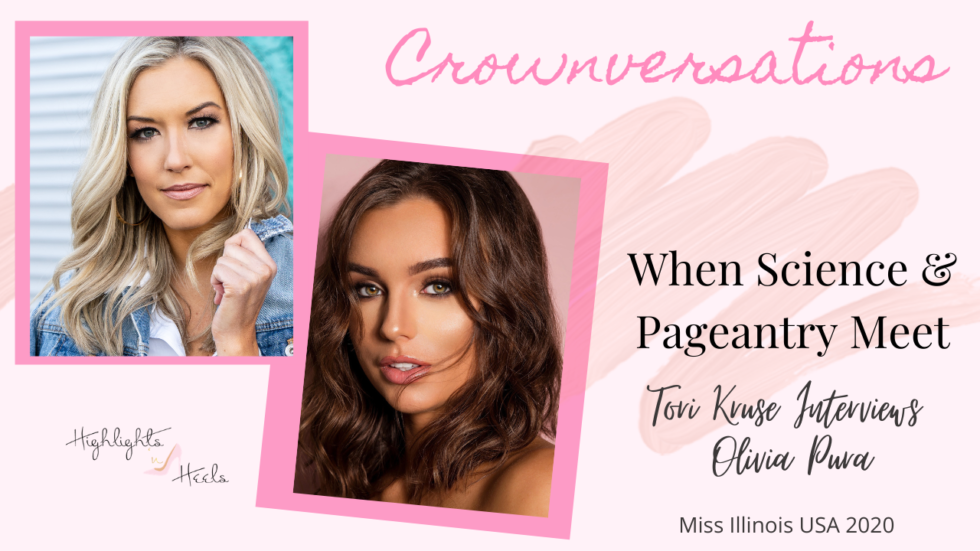 When Science and Pageantry Meet With Olivia Pura
Through this "Crownversations" series one theme keeps popping up: the stereotype that exists with pageant girls just isn't true. All these women illustrate the depth, beauty, and power of the modern woman. The same goes for my guest this week, Miss Illinois USA 2020, Olivia Pura!
Olivia, a Chicago native, has always had a strong interest in science — even from a young age. She excelled in school, and as she progressed through her high school career knew that continuing to pursue her academic studies in the STEM (science, technology, engineering, and mathematics) field was her true calling. It was during this time that Olivia first got involved with pageantry.
Throughout her childhood, she had watched Miss USA, Miss America, and Miss Universe competitions over and over — admiring the women for their grace and intellect. So after retiring from her dancing passions, she was still looking to itch that competitive desire. In 2016, in Olivia's senior year of high school, she competed in the Miss Illinois Teen USA competition — and won!
"I ended up winning that title, and if you go and watch the reaction video I am just floored. I, first of all, had no idea what it meant to be a titleholder. I didn't even think about the fact that suddenly I'm competing at Miss Teen USA… I just had no idea what came along with winning a state title because I was so clueless… At the end of it, I loved every moment of my Teen USA experience from winning the title to passing it on."
It was during this whirlwind year that Olivia was accepted into the prestigious Northwestern University, where she would go on to continue her academic success and graduate with honors in biochemistry and Slavic languages. But before she walked across the stage and accepted her diploma, she decided then was the right moment to compete for the Miss Illinois USA crown. With more time on Olivia's hands, she used her senior year at Northwestern to train and prepare for competition once again.
And all that hard work certainly paid off… Olivia also won the Miss Illinois USA crown in her first attempt! She would go on to finish top 10 in the Miss USA competition — a major milestone that anyone who has ever competed in pageants can understand.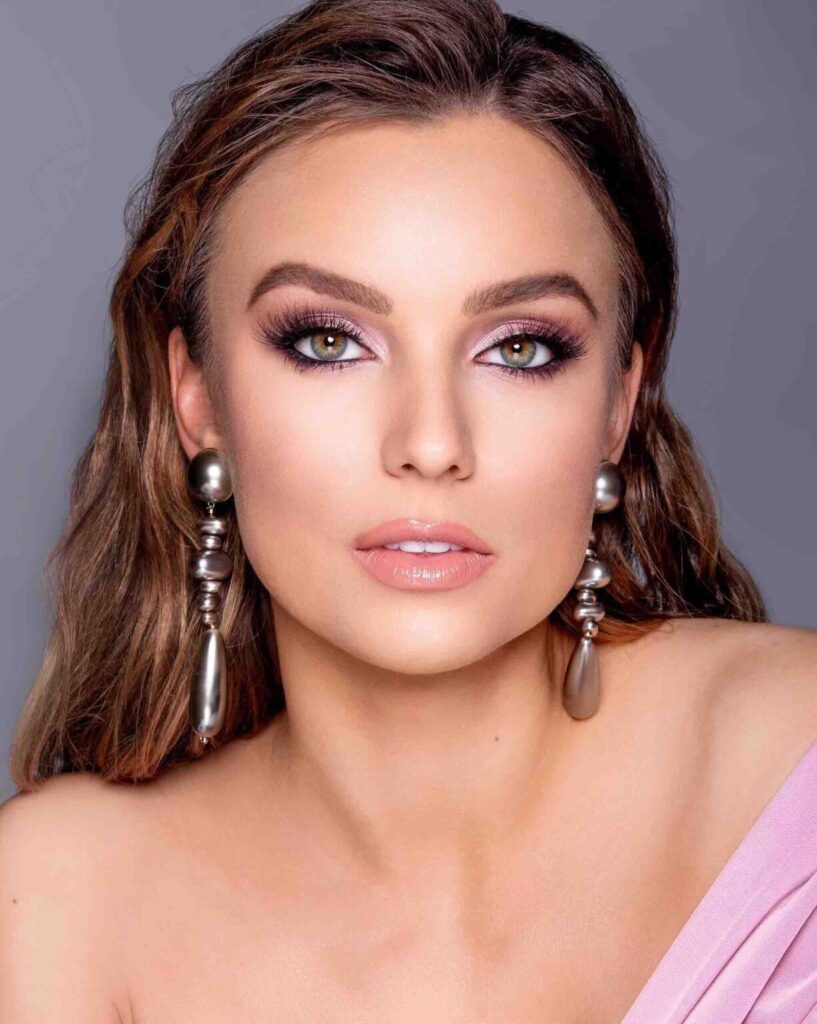 So what was her secret formula? What about Olivia and her training made her so successful? In my own experience competing, and now as a pageant coach, I know how difficult and intimidating the interview process can be. We want to give the perfect answer, sounding both intelligent, inventive, and authentic. But obviously, that is always easier said than done.
Olivia credits her successful interviews with focusing on what she knows best — her one true love. Science.
"I had a total geek-out moment at my Miss USA interview. Because I just love science and I love learning so so much. It's just something that throughout my whole entire life, school and going to class and talking about science and learning new things has been the most exciting thing in the world for me. So to able to really share that genuine excitement for what I do is honestly just kind of fun. It's pretty rare that you get to talk about that sort of thing with people that aren't really related to your life and aren't a close part of your life… So to be able to share it with an audience and people who are doing something completely different with their lives and hear their questions about it was really cool."
But surely Olivia had some reservations about diving so deep into these less mainstream topics, right? I mean how would the judges react to biochemistry and the behavior of cells?
"I think as women, just in general there's kind of this pressure or tendency we have that if we show off too much of any skill set, whether it is intelligence in school or a really strong sports talent or whatever it is, we kind of feel like we have to dilute it because there are so many negative traits associated with that. Whether it's you're a show-off or you're too loud or you're too bossy, whatever it is. I think just as women we kind of feel like oh I need to dumb this down or not highlight this as it deserves to be highlighted because people are going to read it the wrong way… So keeping that in mind, I really committed to going into the interview as if I was interviewing for any position. If they like it and choose to reward it, great! But I'm not going to allow myself to place at Miss USA for a diluted dumbed-down version of what I care about."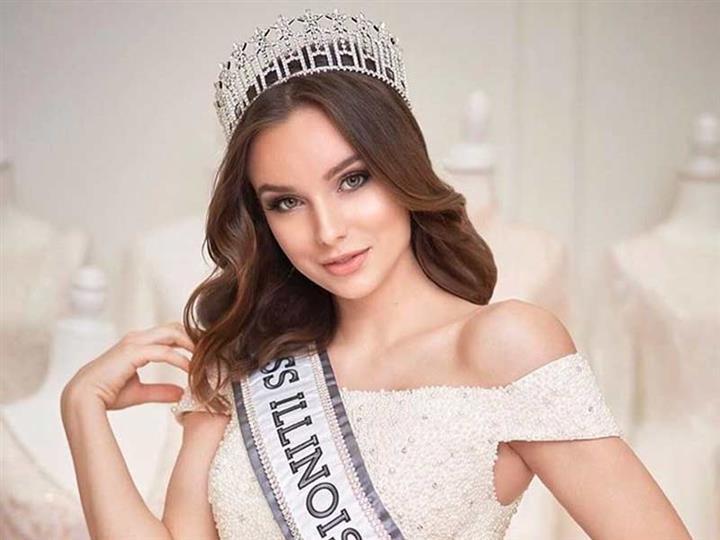 While her academic pursuits have undoubtedly helped Olivia in her pageant career, she also credits the Miss USA organization for enhancing her education and life skills. You love to see a symbiotic relationship (science joke)!
"A lot of it [pageantry] is learning how to communicate with random people that you meet at events. Suddenly you have to be able to make conversation and engage with people who have completely different personal histories than you do. Who come from different parts of the state, different parts of the country, who are either six years old or maybe 76 years old, and you have to be able to make all those people feel like they matter because they look at you with this crown and sash on and want to feel noticed by you. You want to make those people feel noticed. So that was a really really big life skill that has made it so comfortable for me to be put in random social situations and just function and enjoy meeting new people."
COVID-19 is still changing and modifying daily life — and the pageant world is still working through it all. Olivia's home state of Illinois has pushed back their competition until June of this year. Many girls across the country are facing non-traditional pageant experiences and often have to adjust on the fly to new guidelines and protocols. In the midst of it all, Olivia encourages you to reach out to other girls who have already lived this experience — including herself.
"Be unafraid to reach out. I've had quite a few girls competing not only for Illinois but for other states. Shoot me a DM on Instagram, and ask both really broad, 'how do I do this' type of questions and really specific 'how did you pick your earrings?" It's so okay to ask for help, right? You won't find this information on Google, and especially not this year. There are no better people to ask than the girls who have competed and have been titleholders over the past year… My DMs are always open."